2014/10/27
Alliance Group Holding supports workshop "Conservation of Hagia Sophia in Istanbul"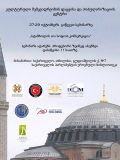 On 27-29th October, a workshop and exhibition dedicated to the world importance monument, Istanbul Hagia Sophia, was organized by National Agency for Cultural Heritage Preservation of Georgia at National Library. Alliance Group Holding is one of the supporters of the event.
The aim of the workshop is to discuss historical, architectural and art value of Hagia Sophia to Georgian and foreign restorers, artists and historians and other representatives of the culture. In parallel, an exhibition was held with the photos of old and renovated Hagia Sophia. The participants of the workshop also learned about conducted and on-going restoration works in Georgia.
"Support rehabilitation and restoration of Georgian cultural heritage monuments is one of the corporate social responsibility directions for Alliance Group Holding. Thus, we supported the organization of this event together with other partners. We hope that similar activities will help to establish cross-cultural dialogue in order to preserve the cultural heritage of the country", - Aieti Kukava, CEO of Alliance Group Holding commented.